Queen Bey
Beyoncé spend billion-dollar fortune
Beyoncé and Jay-Z are a true showbiz force of nature. Since coupling up in the early 2000s, they have built a massive business empire worth billions. Both have dominated the music industry since early in their careers but they're both savvy enough to know money can be made in many different ways. Read on to find out how they make and spend their fortune. All dollar amounts in US dollars.
Legs open
Now for the other half of this dynamic duo. Beyoncé is the breakout star of 90s girl group Destiny's Child and one of the best-selling female artists of all time. With a net worth of $440 million (£330m), Forbes named Beyoncé one of America's richest self-made women. Like her husband, Queen Bey has many business ventures outside the music industry that have helped her amass her impressive fortune.
Top of her game
After Destiny's Child, Beyoncé found success as a solo artist, starting in 2003 with her hit song Crazy In Love, which featured future husband Jay-Z. She has since gone on to sell 118 million records worldwide. In 2014, Billboard named her the highest-earning Black musician of all time, ahead of the likes of Michael Jackson and Prince. 
Tours and performances
In 2016, Beyonce's Formation world tour grossed $250 million (£183m). She also headlined music festival Coachella in 2018, making history as the first Black woman to do so. Her estimated paycheque for the performance was $3 million (£2.1m). Her iconic Coachella performance was released on Netflix as part of a three-project deal estimated to be worth a total of $60 million (£43m).
Perfume empire
Like many other celebrities, Beyoncé has launched her own perfume. Since 2010 she has used her star power to sell around $400 million (£286m) — worth of her signature fragrance, Heat. Beyoncé has also endorsed several other luxury perfume brands including Giorgio Armani and Tommy Hilfiger. But perfume is just a small part of her endorsement and collaboration portfolio. 
Brand deals
Global brands practically line up to utilise Beyoncé's selling power. In 2012 she signed a $50 million (£35m) brand deal with Pepsi. She's also worked with other big names such as L'Oreal, American Express and Nintendo. 
Fashion forward
Similar to her husband, Queen Bey also has her own activewear fashion line. Ivy Park, in partnership with Topshop, was launched in 2016. The brand was then relaunched with Adidas in 2019. Her Instagram post revealing the news got 3.6 million likes within hours of being posted, proving just how loyal her fans, known as the «beyhive», are. According to Elle magazine, Beyoncé is the first-ever African American woman to fully own her own sportswear brand. 
Star of the screen
Multi-talented Beyoncé has also found success on the screen. She reportedly earned $12.5 million (£8.9m) for her role in the 2006 movie Dreamgirls, plus a further $1 million (£733k) for her work on the soundtrack. In 2019 Beyoncé voiced Nala in Disney's The Lion King remake, raking in a cool $25 million (£17.9m) for her efforts. And remember her as Foxxy Cleopatra in Austin Powers in Goldmember? Classic. 
Couple goals
By 2018 Beyoncé and Jay-Z decided to combine their mammoth star power with the On The Run II stadium tour. The North American and European legs comprised of 48 live shows and grossed a total of $250 million (£179m). Both artists performed their biggest solo hits as well as duets. 
Property portfolio
The couple owns numerous luxury properties including a Bel Air mansion worth $88 million (£63m) and a Hamptons home valued at $26 million (£18.6m). According to Business Insider, the pair also purchased a converted New Orleans church for $2.6 million (£1.8m). In 2013 Jay-Z bought a private island in the Bahamas for $4 million (£2.8m). They often go there for family vacations with their children Blue Ivy, nine, and twins Rumi and Sir, four. 
Luxury getaways
Jay-Z and Beyoncé often vacation in Paris, staying in a penthouse at Hotel Le Meurice that costs $20,000 (£14k) per night. They also enjoy trips aboard the Galactica Star superyacht. The yacht is worth $73 million (£52m) and access is super-exclusive – you must know the owner personally. Bey and J also regularly enjoy luxury trips to places such as the Dominican Republic and Ibiza. 
Toy collection
In common with many billionaires, Jay-Z and Beyoncé own a fleet of expensive cars including a Maybach Exelero, Bugatti Veyron, a Rolls-Royce Phantom and a Mercedes worth $1 million (£715k). The custom-designed car includes a bathroom and a $150,000 (£107k) sound system. They also own a private jet. Their Bombardier Challenger 850 can carry 16 passengers and comes complete with a living room, kitchen, several bathrooms and master bedroom. 
Splash the cash
Beyoncé also likes spending and reportedly splashes out $7,500 (£5.3k) a month for a live-in chef and $4,000 (£2.8k) a month for a dietitian. She also owns an enviable collection of designer clothes, shoes and handbags. On a European vacation in 2018, her wardrobe alone was said to have cost $25,000 (£18k).
Family first
The couple spends a large chunk of their fortune on their children. Beyoncé gifted her eldest daughter an $80,000 (£57k) diamond-encrusted Barbie doll for her birthday. She and Jay-Z also splurged on matching gold cribs for the twins costing $75,000 (£53k). All three children are often spotted wearing costly designer clothes and Blue Ivy was even pictured wearing a $5,000 (£3.5k) dress by popular fashion designer Mischka Aoki. 
Charity work
Bling aside, Beyoncé and Jay-Z also donate a lot of money to charity. Beyoncé donated $100,000 (£71k) to historically Black colleges and her charity BeyGOOD, which tackles gender inequality and provides natural disaster relief, pledged $6 million (£4.2m) in support of mental health during the pandemic. Jay-Z founded his own charity, the Shawn Carter Foundation, with his mother Gloria. The organisation raised $6 million (£4.4m) in aid of disadvantaged students in 2019. 
World's Best-Paid Music Stars
Singer-turned-brand Beyoncé Knowles comes in second, raking in $80 million during the 12-month period.
Once a Destiny's Child group member, the Houston native went solo in 2003 and has since released two platinum albums. She's also built a successful entertainment empire that includes fashion, film and publishing deals. She has found still more time to sell $50 million in tickets on a recent tour, take a lead role as Etta James in the upcoming flick Cadillac Records and shill for a slew of brands, including L'Oréal, American Express and an Armani fragrance.
After ditching Destiny's Child to go solo in 2003, the Houston native has released two platinum albums and built a wildly successful entertainment empire that includes fashion, film and publishing deals. She sold $50 million in tickets on a recent tour. Her endorsement contracts with L'Oréal, American Express and others, bring in $10 million annually.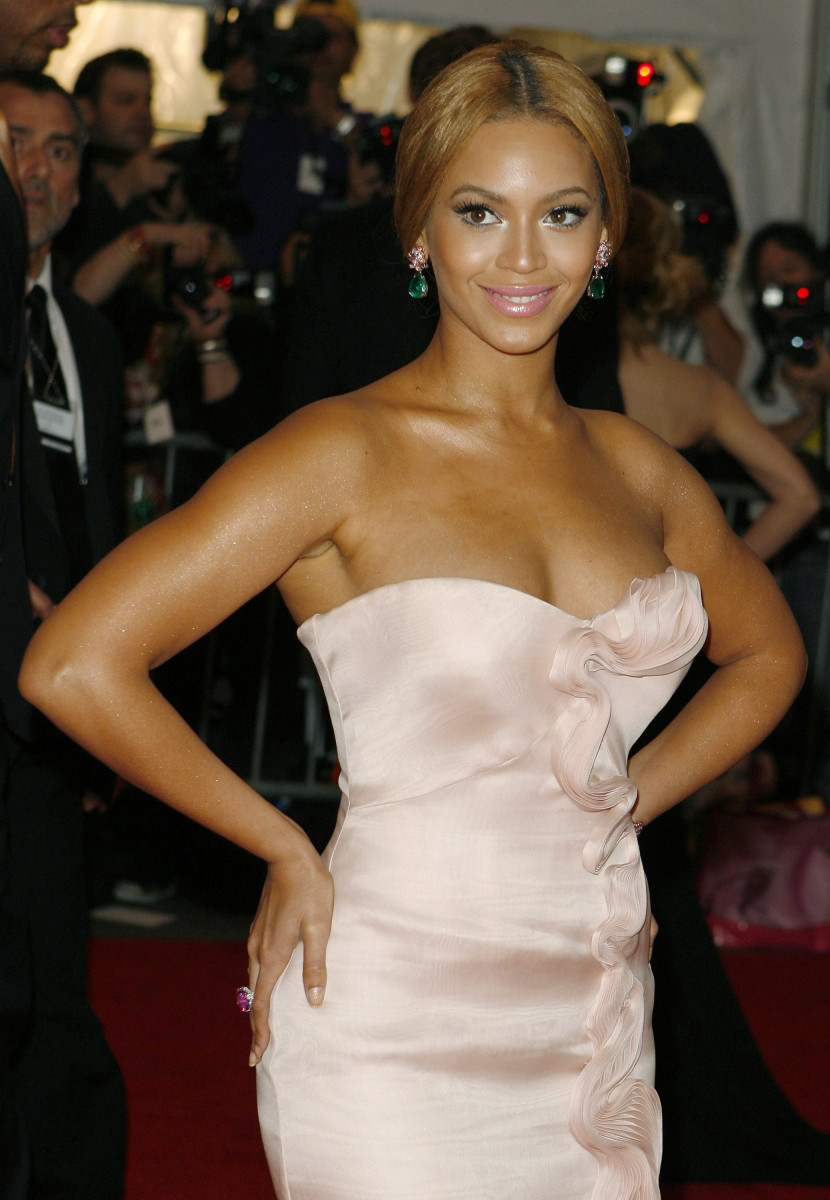 Beyonce's Grammys Looks: From 2000 to Present Day
Wearing a Schiaparelli Couture leather mini, statement pendant earrings and cat-eye sunglasses, the "Black Parade" singer looked fierce at the 63rd annual awards show, where she broke the award for most Grammys won by a female artist. 
www.usmagazine.com/stylish/pictures/beyonces-grammys-looks-through-the-years-pics-w464390/2001-w464392/
Beyoncé se sincera sobre su estricta relación con las dietas
www.hola.com/belleza/actualidad/20210816194619/beyonce-dieta-entrevista-cuerpo/